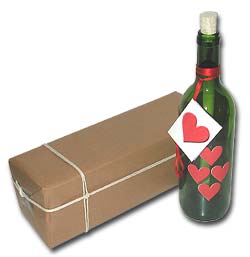 All orders can be conducted 'on-line' while you are on the internet. We accept all major credit cards and can transact in 10 languges in addition to English with our secure payment partner Kagi.
Follow these simple instructions;
1. Select an occasion from the menu on the left hand side of each page.
2. Click on the bottle design that suits.
3. Select a ready made message or input your own.
4. Insert the details of who you are sending the Letter in a Bottle to and any special requirements.
5. Select the 'buy' button and transfer to the secure payment section isupplied by Kagi.
6. Complete your payment information.
7. You will receive a thank you email from LetterInaBottle.com.
8. Please allow 10 to 14 working days for delivery.