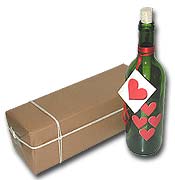 All Letter in a Bottle products can be ordered and paid for while you are visiting www.letterinabottle.com when you use any major credit card through the secure payment process form supplied by our payment partner Kagi - www.kagi.com.

Kagi utilizes the Verisign Digital ID for all secure transactions. Verisign insures that when you order from the Online Order Page using Verisign security, your information is safe from interception and alteration. Verisign offers a state-of-the-art, completely dependable security infrastructure.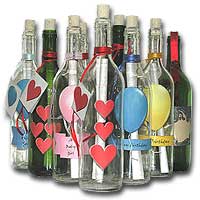 You can use any of the following cards; Visa, MasterCard, American Express, Diners Club, Carte Blanche, Discover and JCB. Our partner Kagi processes all payments in US Dollars $ (USD) but we also show the UK sterling equivilent £ (GBP), Europe Economic Area's Euro € (Euro) and The Japanese Yen (¥) as a guide, your credit card company will calculate your card's charges according to the prevailing exchange rates that are applicable.

Although we are based in Coventry, England UK, we are an international site offering a global service all Letter in a Bottle transactions can be conducted with the following languages with our secure payment partner Kagi; English, Deutsch, Dansk, Español, Suomi, Français, Italiano, Dutch, Svenska, Russian, Japanese on the order page and most of the order page will be translated.

Using a credit card is probably the safest way to buy on the internet, this is due to the safeguards that you card supplier has afforded you in your agreement.